A laptop is necessary again for the majority of the population, including businesses and students. Have you ever wondered whether a reputable computer repair shop is nearby? Or "Are there any nearby laptop repair shops?" when something has gone wrong? Today, we retain OEM requirements with ESD-safe workspaces, thus the answer to your question is yes. In Sharjah, Khaleejfixer will fix any laptop issue. As a result, we can fix the computer in our service facility or any place in the city.
Laptop not working? Not to worry! Our friendly, knowledgeable laptop repair experts will repair it. We locate and resolve any laptop issues, from simple fixes at affordable set prices to complex recoveries completed in Sharjah.
We are efficient, competent, and practical. You are welcome to visit our laptop repair facility in Sharjah, and we may travel to you. We offer callout laptop repairs to everyone in Sharjah. You won't ever need to delay an emergency repair because we operate weekends and nights in addition to regular business hours.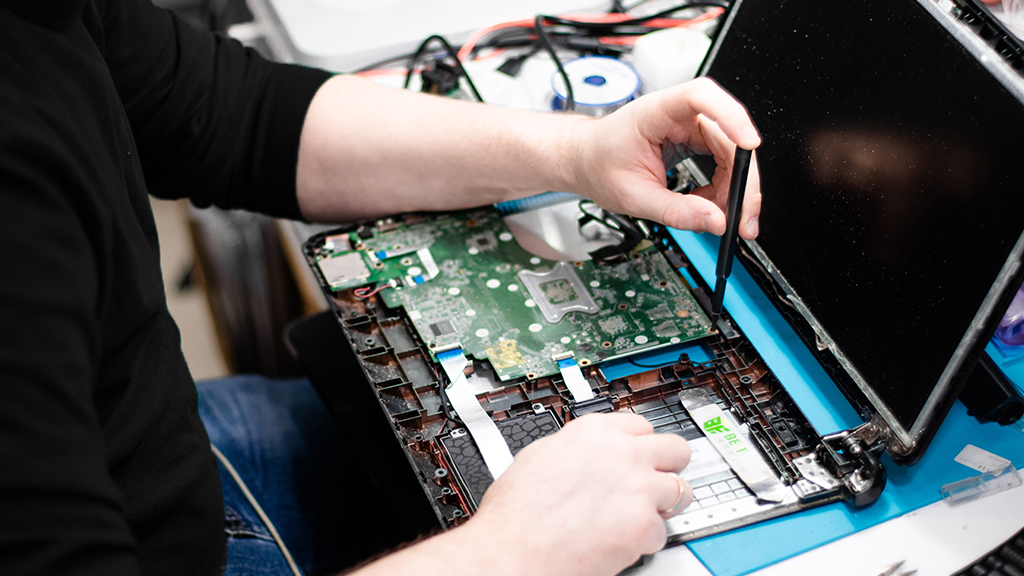 No matter wherever you are, our capable team of tech support professionals will locate you or assist you in finding us for the laptop repairs in Sharjah. For our repairs, we provide a warranty. Our qualified technicians—who we refer to as certified Khaleejfixers—fix anything on-site.
Laptop Repair Sharjah:
In motion. In the workplace. Whenever your laptop breaks down, the results are the same: work stops, customers are left wondering, and deadlines are approaching. We understand that your computer is more than simply a tool; it's also an important part of your life, career, or education. Your qualification applies. And you must have it operational and running as the crucial deadline approaches.
All probable problems are covered by our laptop repair facilities. Whatever the issue with the laptop, we have the most modern infrastructure to fix it!
Repair of laptops in Sharjah. Wherever you are, locally!
If your laptop malfunctions anywhere in the Sharjah region, we are the solution to the query "Are there trustworthy laptop repairs close by?" There are, indeed. Khaleejfixer provides a service that is available to you anytime and wherever you are.
Contact our Sharjah laptop repairs and servicing shop to receive helpful assistance from our knowledgeable professionals. V visit our laptop service center in Sharjah to have the majority of laptop repairs done while you wait. If the problem must wait till the morning, we also contact you just on weekends & during the evenings.
Your Trusted Local Laptop Repair Service:
Our trained Khaleejfixers are courteous, competent, and professional. They'll describe the issue in detail. They'll usually solve the problem right away. If extra parts are needed, you'll get a quotation right away. Following that, we will pick up and deliver your laptop at a moment that is convenient for you.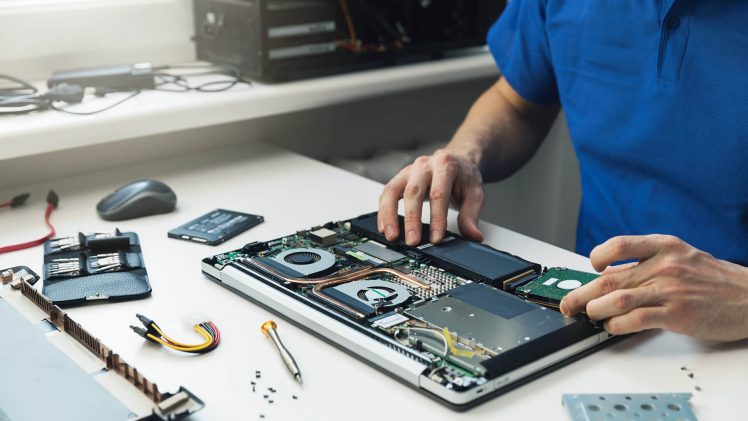 laptop repair company that takes pride in performing each of its repairs offers it all. From program and operating system issues to mechanical difficulties, we have a team of IT experts for all laptop repairs. Our laptop experts will repair the problem whether it's at your place of employment or our office, whether it's a shattered screen or a damaged hard drive.
Windows or Mac, No Issue:
In addition to equipment and software, our staff members are networking specialists. We have Windows elders and Mac wizards. Therefore, you hire a master of one when we call Khaleejfixer for laptop repair services in Sharjah. Our MacBook Repair in Sharjah specialists is experienced with all frequent (and unique) problems with the silver computer each common (and unique) common (and unique) problem with the silver computer's frequent (and unique problems and any laptop issue can be resolved by our Windows IT specialists.
Consider us to be The Avengers. Rather than Thor & Iron Man, you have Khaleejfixer, a man who has spent years trying to revive MacBook.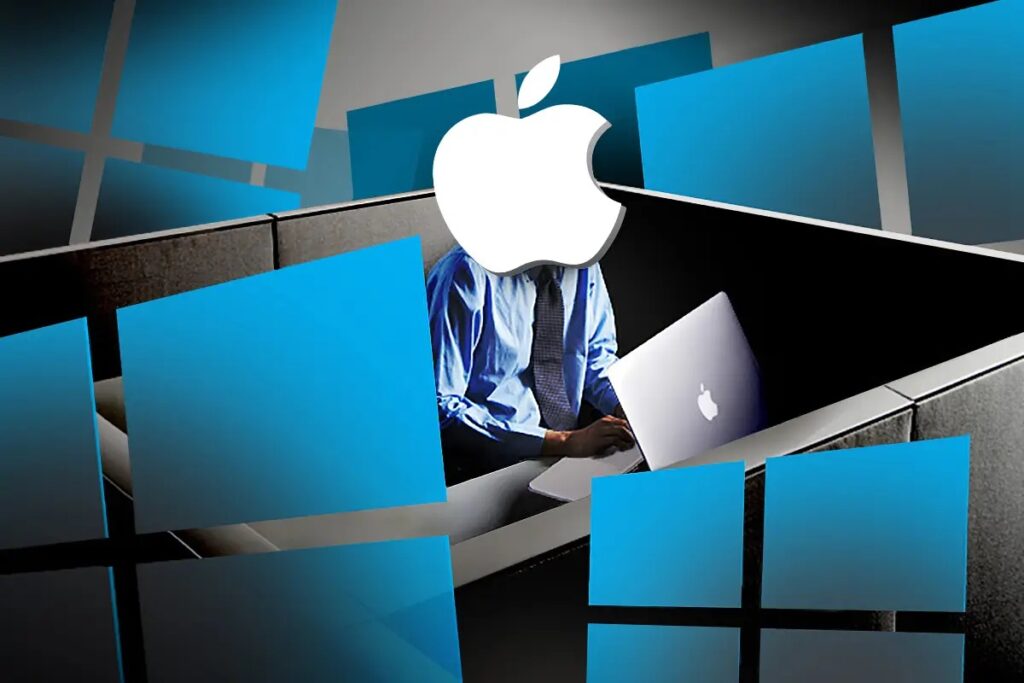 Repairs for Laptops That Respect Privacy:
Your laptop is loaded with confidential material that can be recovered, regardless of what you employ it for (home enjoyment, work, education, or play), and it all falls under the category of "security threats."
We take just as much care to protect your safety as you do. Only under strict non-disclosure contracts do we fix laptops. Not simply as a business. Before opening up your computer or looking into its hard drive, each of our fixers and engineers can sign any pertinent paperwork you desire, such as a binding legal non-disclosure contract. Our experts will not transmit any data to a third party.
We can Repair Laptops more quickly than a Blazing Bullet!
In 90% of any laptop service scenarios, we'll identify and address the problems with your device right away. And as a result, the bulk of our services are finished for an unbeatable fixed fee!
Even if it takes us longer to fix your machine, we are still first in terms of response. And the reason for that is that we provide the best-skilled laptop repairs in Sharjah. Our laptop service facilities have all the authorized, elevated spare components we need to complete your task as quickly as possible.
Without Extra Charge, Dependable Laptop Repair in Sharjah:
Are you concerned that the computer repair we offer won't be of the highest caliber? Only authentic spares that have been authorized by the maker of your computer brand are used by us. We don't pay for the name, but our Fixers are professional and competent and have more than 10 years of expertise in the industry. You don't have to pay a premium when using Khaleejfixer to repair any laptop in Sharjah. You simply pay for the work itself.
Data Recovery for Laptops:
Our team has experience recovering data from the most severely damaged hard drives, and Khaleejfixer offers data recovery services that are quick, dependable, and safe. If your computer has a fatal flaw that we are not able to correct without repairing the hard disk, we will attempt to recover as much of your data as we can from the broken system. When we're done, we follow strict security protocols to destroy the old hard drive. For any of your needs regarding data recovery, contact Khaleejfixer.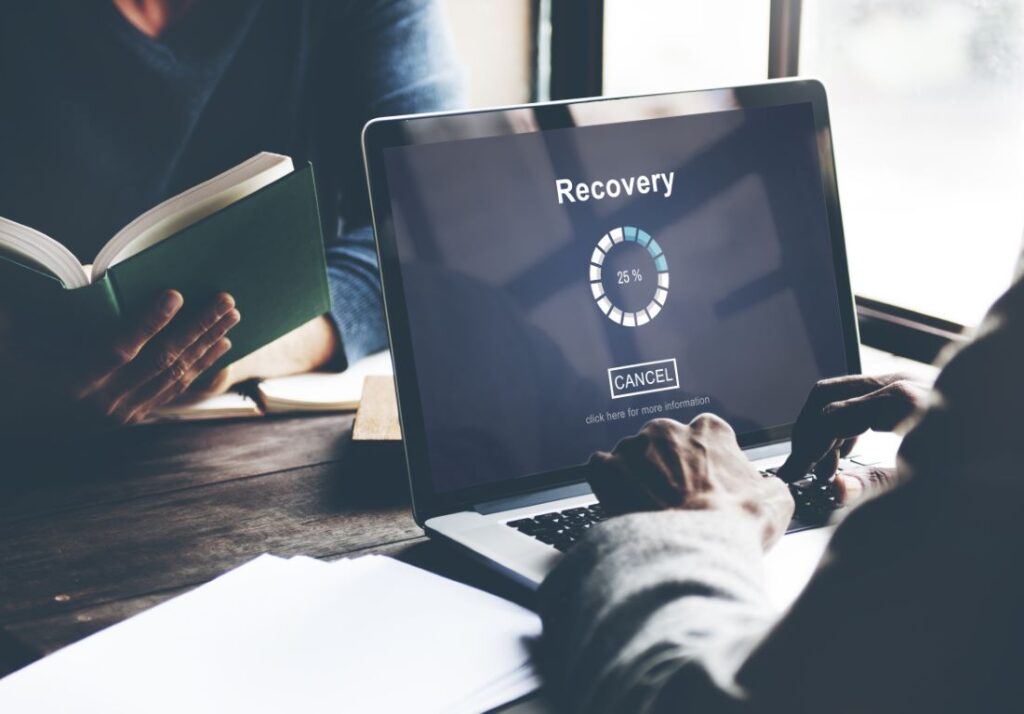 Hardware fixes for laptop screens and motherboards:
Our laptop repair specialists offer a wide range of hardware repairs, from new keyboards and touchpads to displays that require repair and internal gear that requires replacement. We frequently fix hardware that has known issues (such as a broken keyboard) for a predetermined fee. Our professionals have a wide variety of replacement parts available that can be utilized to quickly resolve the bulk of hardware failure.